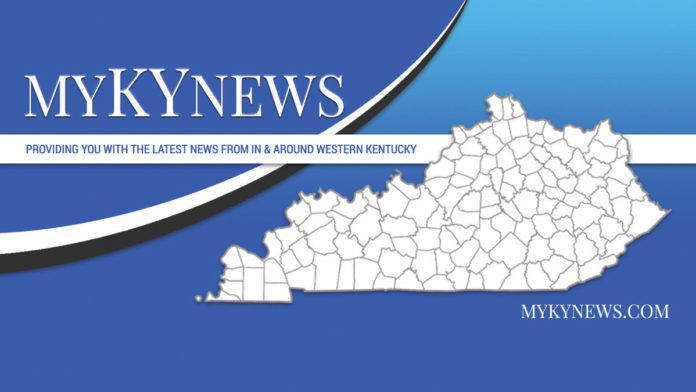 Nine men perished from the River Queen Mine explosion, August 7, 1968
survived by 9 wives, and 33 children
BOBBY ENGLISH, 34, of Beech Creek, wife and 4 children
ERNEST MILLER, 45, of Central City, wife and 5 children
PAUL CREEKMORE, 44, of Central City, wife and 3 children
JAMES HARRIS, 33, of Sacramento, wife and 4 children
FRANK EPLEY, 45, of Greenville, wife and 3 children
DENNIE SALING, 58, of Echols, wife and 8 children
JAMES BRYANT, 25, of Cromwell, wife and 2 children
WILLIAM RICE, 31, of McHenry, wife and 2 children
ROBERT FRIDINGER, 36, of Madisonville, wife and 2 children
WNES program Director, the late Legon McDonald was the first reporter on the scene along with a photographer, where they remained for the next 16 hours. Reports were fed to dozens of stations in metropolitan cities across the country; climaxing the days activities Wednesday, and again Thursday when confirmation had been made of the deaths. McDonald gave the 500 station Mutual Radio Network information as the tragedy unfolded. People were desperate for information.
Times were different; every home didn't have a phone. It took time for news of the explosion to reach the community. James Harris, the oldest son of the late James Harris recounted the events of that day, forever seared in his then 12 year-old-mind. "We were living on a little farm, and we didn't have a phone at home. My Mamaw and Pap (Gertie and Woodrow Miller) lived across the field and they had a phone so they got the call. When Mamaw and Pap drove up in the driveway, we just knew something was wrong. They had my Aunt with them, her husband Darrell Miller was in the mines that day too."
Harris continued, "My mom came out of the house saying 'what's wrong?', they didn't answer her, then mom said 'something has happened at that mine hasn't it?' Harris had two younger brothers and a younger sister whose memories of their father escape them, unless prompted by the younger James Harris. His memory however is vivid when recalling what happened next.
"Mr. Peabody's Coal Company representative Foster Silers came to the house and told my mother 'don't worry about these boys, we'll make sure they get a job in the mines, and they won't be underground, they will be outside.' Taking that to heart, young Harris took welding classes at trade school and became a certified welder. Upon graduating high school, he went to River Queen strip mines. Harris said, "I waltzed in up there and told them who I was, and what had happened, and I was there for that job, they just laughed and said 'man we can't hire you' (in the strip mine), but we can put you to work underground. Harris declined the position on a Tuesday, but came back Thursday and took the job. He spent 7 years underground at River Queen; in the same mine that claimed his fathers life. After a lay-off, Harris then started at the strip mine, and finished out a 22 year career with Peabody Coal.
Harris' Uncle Darrell Miller got out of the mine that day, he was on the air course setting timbers. His other Uncle wasn't at the mine the day of the explosion. When asked how hard it was for him to go into the mine, he said  "I was too young to be scared about going into the mine, I started in 1975 at $5.05 and hour." He remembers his father coming in with the news after a UMW of A strike, 'well we signed the contract and everything going to be ok now, I'll be making $25.00 a day' Harris thinks that was in 1967, he continued, "In this county, you couldn't make better money at that time."
Mr. Bob Cox recounts his memories from that day. On July 30th, Mr. Cox celebrated his 72nd birthday, making him a young man of 22 years old when the explosion occurred.   "It's a day nobody will ever forget that was there. I had just started in February of that year, and my brother Wendell had worked there since December. A third Cox brother Donald was hired in at River Queen having just returned from Vietnam, where he worked as a mechanic in the army. He was hired on almost immediately at the mines. In fact was hired on the spot, mid-interview, because a good mechanic in the mines was a prize in the day" Cox said.
One of the Cox brothers was in the mine the day of the explosion. A unit at the time would be 9-10 miners working together for that shift, running that section. "I remember standing out there that day thinking I don't know if I'll ever see any of those men again, or my brother either, because we didn't know what all had been blown there were 4 units running that day. Each unit had it's own air, but only had one exit."
"I'd actually come in to work two hours early, going to a maintenance school while working second shift. We got up there and got started and they came running in and said 'something's happened down in the mines, get your hard hat and come on, you don't need a light because we can't go in'. We knew it was bad then."
Still standing with everyone else, wondering how any one could have survived that he looked up and through the thick coal dust could make out the miners headlamps from a distance. Mr. Cox remembers "the head lamps, looked like tiny little candles, the air was so thick with smoke and coal dust you couldn't see; you could hear them on the tracks, and all at once my brother popped out. Of course they were riding motors and everything they could, trying to get out. We were praying for all of 'em, but well, it was my own brother." He said, "my brothers' unit had coal debris embedded into their skin, from the explosion, but he made it out!"
Cox said."We all went to the slope, to the opening of the mines and smoke was coming out, that's when they told us there had been an explosion." Mr. Cox remained at the mine all day leaving when he was exhausted. "When we went back the next day, they were just starting to bring them out. They didn't have a chance. There was powder on the back of a drill, and it ignited somehow, that's what caused the explosion" Cox said. "In an underground mine a blast like that has no where to go except out the entrance, like a shotgun barrel. It was just a horrific day for everyone concerned.
"It's something you never forget. It's I guess like being in the military, and something happening and you lose some buddies. In a coal mine, everybody that works there is kind of united together, and the families are like that too. This was a great group of people, everyday, hard working people. They cared about their families and their country" Cox continued, "You know this was 50 years ago, it was an awful experience, and they deserve to be remembered; for their families, as well as their communities and by the nation because of what they were providing for the nation. In 1968 just about all the power the nation used came from coal, primarily this area. Along that time or a little after that, Muhlenberg County was the number one coal producing county in the United States."
Mr. Cox's two brothers remained with Peabody Coal, and the three totaled over 100 years mining experience. Mr. Bob Cox retried from Martwick in 2002, in his 35 year career he worked at five different mines in the Peabody Family of mines.
When Mr. Cox was mining, they would put holes in the coal, fill with a charge and blow the coal in order to be able to load it. He said "At the time, that's what they were carrying on the back of the drill. It's just how it was done then, because it was handy. It wasn't real smart, but miners like everyone else, they would get tired and just want to get that coal down."
When asked about going back into the mine, Cox said, "It was good pay yet bad conditions for a young guy. I'd rather have been swimming or playing pool or something else, but I just made myself go back then low and behold they moved me up to dayshift." Peabody informed Cox he was one of 5 men picked to go to the damaged area "where it's tore all to pieces, black, dirty, where the explosion had happened." he said. "The mines told the five of us to go slow and take our time, get comfortable being in there where the tragedy occurred, and so we went. It was awful, but we did a little at a time. It was hard to be in there, real hard. The blast was very violent, the beltline was twisted and knocked completely over."
The River Queen Explosion in August of '68, and the Farmington, W. Va. explosion in November of '68, (which claimed 78 lives) led to the Federal Coal Mine Health and Safety Act of 1969, in an effort to improve mining conditions across the county.
On the current accusations that have been in the news with coal company officials being accused of falsifying the numbers on breathing devices, both Mr. Cox and Mr. Harris had strong opinions.  Harris said "to me, these people stole from those miners. The pump you wear, I've worn many a time. At the end of the day it's been pulling the dust that you are breathing in. They are (accused of) taking those outside to change the numbers. Like you wasn't in any dust. That's not right." Harris said "I take a breathing treatment every day, living with Black Lung and COPD, and never smoked a day in my life."
Mr. Cox, also living with black lung, added "It's a real dusty job no matter how you do it. There are things they do to minimize the dust, they just don't need to do anything at all to make it less safe; go the other direction, as you learn more, do better. That's the wrong way to be going for miner safety. We'd come out of the mines and all you could see is our teeth and our eyes, we'd be so dusty, the '69 laws changed a lot of that."
Mr. Cox said "Over the years company foreman would get mad at me, but I'd put a stop to things that were unsafe. I'd tell 'em no, we're not going to have another explosion on my watch if I can help it.' The entire time I was President of the local 3000, United Mine Workers of America, I never lost a man. I'm proud of that" Cox said.
He said "I knew they didn't want to stand out there like I did all those years ago and watch Mamma's and Daddies and kids crying, watching, waiting to see. Not if I could do anything about it. A short cut only gets you time in either the funeral home or the hospital. No one wanted that."
(the above drawings are from the Bureau of Mines Circular/ 1983. United States Department of the Interior, Bureau of Mines, Historical Summary of Coal Mine Explosions in the United States, 1959-81/ Photos Leader-News archived by Barry Duvall for Muhlenberg County Kentucky History Facebook page.)
— Kathrine Newman Timmons, mykynews