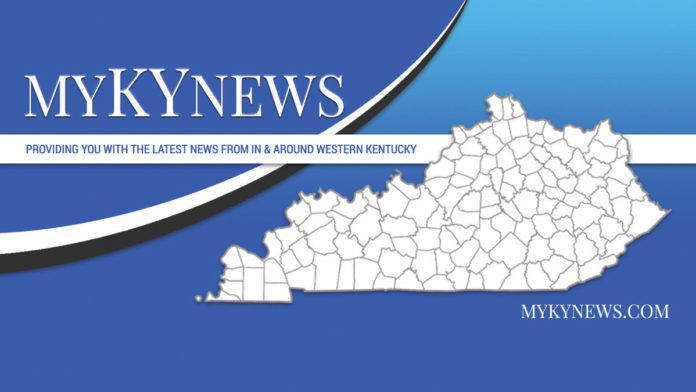 Things are happening in the woods around Sharon General Baptist Church making the Church's neighbors wonder exactly what the noise is all about. Neighbor Rondall Woodall reached out to myKYnews saying, "Someone needs to see what's going on out here in the woods, it's amazing." Dwayne Hill, a member of Sharon is building a Prayer Garden adjacent to the property, and he's been at it for months.
In the late 70's to early 80's Hill and several other members were involved in putting up a church sign. "Freddie Locke and I worked on that sign. Freddie would get something put up and before the mortar would set, I'd look over and he'd have it torn out. Saying it wasn't the way it was supposed to be. I've experienced the same thing with this garden."
"In the mid 90's that sign was hit by a coal truck and destroyed," Hill continued, "ever since then the granite has just been in the back of the property growing up in weeds. We elected at the time to put up a different style of sign but the granite from the old sign has been in the back of my mind this whole time.
I was driving down the road and I called the pastor and asked him to be in prayer for me, the Lord put something on my heart and I'm trying to figure it out." Hill explained.
"I walked out in the woods and walked the property. We owned a triangle of land, a pie shaped wedge that wasn't being used so that's where I decided to put a prayer garden. I get home and I'm drawing it out, and I've got it like I think it's supposed to be. I start looking at Menards, and they've got a picture of almost exactly what I've drawn up. I knew then that I was headed in the right direction."
"What inspired me was our preacher, Darren Pentecost. He goes to the woods to pray when he wants to get one on one with the Lord."
"The preacher has a sermon series where he explains his 'Prayer Stump'. Our Pastor, believes in the power of prayer and our church is a praying church. Darren will write a prayer on a rock and place it near a stump on his farm. He hunts and really understands the kind of connection that you can have with the Lord out in the woods. A lot of people don't know what it's like to be alone in the woods."
"Darren will start out, 'I got to put my rock up on the stump.' This will light the church up; we know, his prayer has been answered. One Sunday he went on to tell the church that his family got Little Zoie's adoption papers and they can officially adopt her.

We believe in the power of prayer. When I got hit by that truck, they life flighted me out, everyone knelt in the parking lot of the hospital in prayer for me. I was busted up all to pieces. The Lord took care of me and this is what i'm supposed to be doing for Him.

To get the community and the church involved I asked everyone for their favorite bible verse. We put everyones verses on the rocks that make the walls of the prayer garden. Then I take them and turn them upside down and glue them down together. Now of course the prayers will come off and you can't see them after they are placed, but they are there. A strong foundation for someone to walk up to, have a seat, and have some quite time alone in the woods with the Lord.
Now I haven't put any of this on Facebook, the Lord hasn't said anything about putting it on Facebook. Woodall checks in on me pretty regular over here. Wilbur Harkins, he comes and visits and checks on my work. I know my wife will be glad when I'm not out here all the time, I only see her when it rains. This garden is open to everybody. It's all about being one on one with the Lord.
At our Easter Sunrise Service for the dedication, I want to start out in the church, show pictures of what we've been doing in the woods, a lot of folks have worked on this, and we want to get everybody's heart right. I want to take everyone out to the prayer garden and have the ones that can, to kneel and recite The Lord's Prayer.
The Devil will do all he can to trip you up in your walk. You've got to stay on a lighted path, and build on a strong foundation. This isn't about me, it's all about prayer; prayer works. The vision for Sharon General Baptist Prayer Garden came from that sign."
Kathrine Newman Timmons