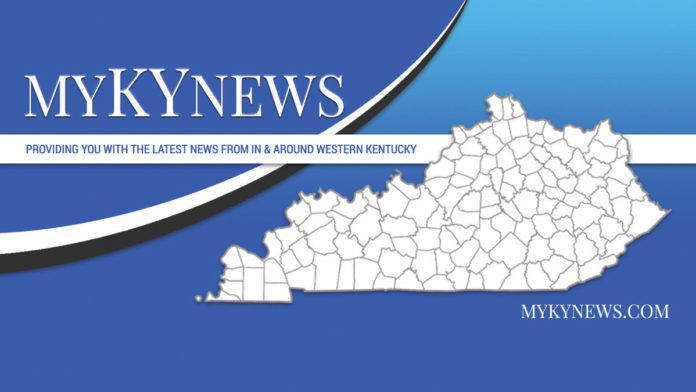 Four months after taking office, Terry Nunley Jr. has hit the ground running. A career in law enforcement, working from 1994 through 2018 has helped prepare him for the role of Jailer at Muhlenberg County's Detention Center.
"I worked at the Muhlenberg County Sheriff's Department, the Central City Police Department, and was Assistant Director for the Pennyrile Narcotics Task Force."
"I've been fighting the war on drugs, narcotics. I've learned that corrections and law enforcement are kin, but they are distant kin. When people get arrested, that law enforcement officer drops them off here, and the officer leaves."
"Here, we stay with them. There must be a mutual respect; these people live here. We don't antagonize. My job is to enforce policy and law. If policy and law isn't violated, then there's no reason to have a conflict. We have to maintain control, but you can do that in a positive manner, do it the right way."
"Recently we had a code blue, the individual had previous heart issues. I happened to be here working on other matters with the Chief Deputy, and we hear them calling out, 'Call 911', which is never a good thing to hear come across the radio." Nunley explained.
"The nursing staff and another of my staff members went to work on him while another staff member took the other inmates to another holding cell. I'll be honest with you, when I got to the cell, I said a prayer when I walked in and saw that he was gray."
"They did CPR and shocked him, and got him back and took him to the hospital. He got called 'upstate' which means he was being transferred from here because of medical issues."
"As he was leaving, he shook my hand and thanked me. That was a very moving moment for me. It wasn't because of something that I'd done at the time, but I'm proud I could be a part of something that could help this gentleman and save his life. I'm very proud of our medical staff."
On being a politician, Nunley has this school of thought: "You can be a politician or do the right thing, I'm not much of a politician. Having medical personnel available 24/7′ it's the right thing to do."
"The trash pick-up is another program I'm pleased with. Back during the campaign I'd talked with then Sheriff McGehee about the trash situation around the county. Like the old saying goes, 'if you look good you'll feel better'. We want the county to look good."
"Having had the second meeting concerning litter issues around the county, things are starting to get put together with magistrates and the Judge, all working together. We are all trying to get businesses to come to Muhlenberg County. When they visit, they are going to be looking at the roads."
"Since April 1 when this litter campaign kicked off, we've picked up 471 (as of Monday April 22) bags of trash. Keenan Durall is my part time deputy (working three days a week) overseeing this, and he's doing a great job, what a blessing. I'm so impressed with him because I didn't tell him he had to get out and walk the ditches with the inmates, he just does it. He's out walking with them; He's an example of why I can be successful. It's the people you've got working around you. It's not about me, I've been blessed. I can only be as good as the people around me."
"We will cover different parts of the county, of course there are areas we want to attack first. We went out Highway 62 to Paradise Industrial Park. Right now we are on Highway 431 headed South."
"Another thing we are working toward is changing the in house food service. The cooks, everyone in food service does a great job; I've been very pleased."
"One of my jobs is of course to maintain a secure and safe facility, but I'm also concerned about saving money for the county, because the county is financially struggling. We took closed bids, and a company called Kellwell got the contract. The initial savings on paper was around $100,000 a year."
"I called Mr. Bob Lewis who handles the financial aspect of this for the county and got the figures on what our food service was costing averaging 270-300 inmates, three meals a day. I just started looking, asked other facilities in the region, and they have had success using Kellwell Commissary . It came down to Kellwell's buying power."

"We got a technical grant from the people that do our phone services here for the inmates. We plan to get a body scanner with the next round of grant money. When people are trying to bring drugs inside the facility, they use a body cavity to transport contraband. To control that, we will use every avenue we can. For a jail this size we need a body scanner."
"If we want to make everything work, from jail to road department to dispatch, we all have to do our part. The TVA situation, as everyone knows is going to create a struggle everywhere."
"There are a lot of things I'm looking at for the future, but I'm proud of what we've accomplished so far. There's a lot more to accomplish."
"I was blessed to be elected. When I'm dead and gone, somebody else's name will be on the outside of this jail when i'm in the casket; I think doing the right thing means managing right, putting your self-pride aside and having the character to do the right thing when no one is looking."
"So far a shining point for me was shaking hands with that gentleman (from the code blue) and seeing him smile. I'm thankful that he shook hands with me, with tears in his eyes. Yeah, I'm thankful for that."
Kathrine Newman Timmons, http://www.myKYnews.com