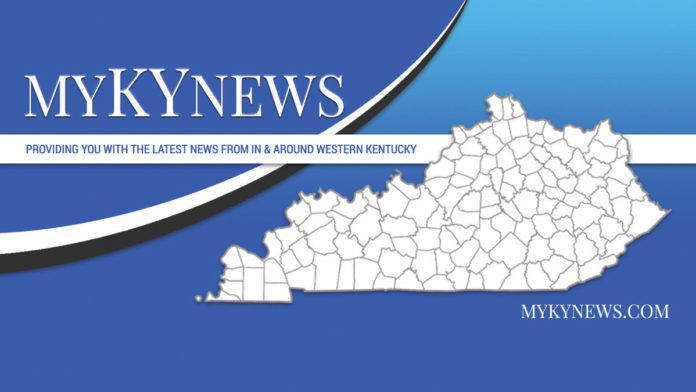 A few weeks ago Krystal DeMond of 'Sanctuary, Inc.' was seen all over town drawing on the sidewalks; fortunately, she had help and permission.
Sanctuary, Inc's office is located between the Greenville Police Department and the Muhlenberg County Detention Center. They are a non-profit agency committed to the provision of preventative and restorative services to victims of sexual assault and domestic violence.
DeMond is Sanctuary's Victim Advocate, and has been in the role since January.
As part of Sexual Assault Awareness & Prevention Month, DeMond along with area merchants were helping spread the word during the 'Chalk the Walk' campaign.
"I don't want to say I enjoy this job, but I do enjoy knowing I can make a difference. I know non profit is where my heart is, I'm currently enrolled at Brescia online to get a bachelor's degree in social work. I could never figure out what I wanted to be when I grew up, I know I have a passion for helping people and social work seems to be an area where I can help children, I can help adults and even seniors.
"Unfortunately, a lot of people disclose to me that their parents are raising their children, but they are still getting a check off them." Meaning the government assistance is not going to the children that it's intended for. "That's sometimes very difficult to hear."
"I take it on myself to get in touch with child protective services and other agencies and work closely with them. So if they have a parent that has a case plan that needs to be worked and there has been any type of domestic violence or sexual assault, (even for that parent as a child), our services are available."
"I'm not a licensed therapist, I do counseling and I teach classes. We offer Domestic Violence 101, Sexual Assault 101 and from there we break it down to self esteem classes, and a class teaching healthy relationships verses unhealthy relationships. Educating on the characteristics of a batterer. These are five week classes, and they can be group sessions, or honestly most people choose private counseling."
"There are two licensed therapists on staff that travel the nine counties we serve; Caldwell, Christian, Crittenden, Hopkins. Livingston, Lyon, Muhlenberg, Todd and Trigg with offices in; Hopkinsville, Madisonville, Elkton, Greenville and Eddyville.
We are open 24/7, 365 days a year, at our main office in Hopkinsville. If someone calls a crisis line and they are from Muhlenberg County, usually if they are not in immediate danger, the crisis line will give the caller my contact information. There are five victim advocates that service the outreach counties.
When we get the call, we never go to anyone's home. We can meet at the police station, the outreach offices, at the hospital or often we meet at court.
DeMonde says, "People don't really know we are here, and definitely don't know the depth of service that we provide."
As a victim advocate, I go to the courthouse every Wednesday. There's a docket that has all the EPOs, (Emergency Protective Orders) so I go to court with them. I let them know that services are available and that legal aid is available. We don't encourage or discourage their decision, we just discuss what their options are.
There are three types of DVO's (Domestic Violence Order) 1) absolutely no contact including social media, texts, calls, mail or third party contact. 2) communication only through texting, voice mail messages, no face to face contact. 3) all the face to face contact you want as long as the perpetrator doesn't become violent, physically or verbally. If they do the police are usually notified.
Most women are scared when they go to court, especially if there are children involved.
I have to find out what the victim wants to happen, so I can work a case plan. We offer classes and therapy but we also offer a program called rapid re-housing.
If the client doesn't have their own home; it's in someone elses' name, or both their names and they want to relocate, we pay their deposit and three months rent. The services can also be utilized to help relocate to another county. If they are in immediate danger and don't have a vehicle, then arrangements will be made for transport.
Unfortunately, most of the women I work with have been in these relationships five or more years. They love the person that's been abusing them, that's their life.

Emotional abuse in most cases is 10 times worse than the physical abuse. Not every case, but it's like the words stay there in their mind, forever. The bruises and broken bones heal, but the words remain.
We see a lot of financial abuse; everything is in the perpetrator's name; the car the home the checking account. Sometimes it's a case of 'you can leave, you can leave any time you want, but you'll have nothing', it's held over their head.
We are state and federally funded, and we also accept local and private donations. We just recently received a grant from the Felix E. Martin Foundation for support of services. We can pay necessities, power bill, water bill, we can buy furniture for the home. Many times they reach us with the clothes on their back.
I want people to know that this is a safe place. Many people think that if they come here they have to leave the person that is abusing them, and that's not true.
The majority of services that we provide are still available to that person. Everything here is free and confidential, and there's no history that they've even been here.
We work with Kentucky Legal Aid out of Warren County. They will speak with clients over the phone, and they also will go to our main office and see clients in person.
We are not judgmental, and go through a great deal of training teaching us not to be biased. Our job is not to ask 'why'? Our job is to let victims know that someone cares, and that we are going to listen. If they just want to come once a week and vent about all the horrible things the perpetrator is doing, we're here.