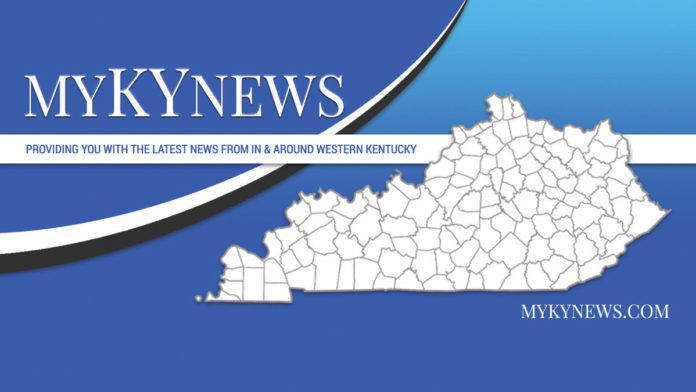 Kristi Jenkins, recently took time from her hectic schedule as Director of 911, to help spread the word about Muhlenberg's Rave alert system.
"The first alert system that the county purchased was 'Code Red'. We've had Rave for two or three years now and it does the same thing as the old code red; notifications on bad weather, boil water advisory, missing child, if we have an escaped person or it may be something dangerous to you or your neighborhood."
"In addition to Rave we have Smart 911. Getting signed up is simple." A person registers at smart911.com, filling out as little or as much information as the individual wants 911 to have. If online registration is unavailable, dispatch will help people get registered.
Jenkins said, "Family members can be added, medications, health issues, pets, make and model of vehicles, where children are located in the home in the instance of a house fire."
"This information is in a data base that is held by Smart 911. Your information is associated with the phone number you've given, and pops up to the operator taking the emergency call."
Jenkins continues, "For example I entered myself, if I call 911 my picture pops up, my information is available to the dispatcher for a brief time. We can not save the information and once it's off our screen, we can't access the information again. The system will alert us to medical conditions, for example, diabetes. At times, diabetes can mimic the symptoms displayed when a person is under the influence."
"The information really does go away; however, it has helped us several times. In one instance we received a call and the lady was unable to speak. The dispatcher got her information from the Smart 911 program, resulting in aid arriving more aware of her situation."
"There is a drawback to Smart 911. Registered users must log in every 6 months, if you don't register in a timely manner, it's like you don't exist in their system any longer. The reason they do that is because people move. We have that a lot in our county because so many people rent; people also change their phone numbers. The system wants you to log in to make sure that we have the most current and accurate information."
She explained, "You don't have to change anything, just log in and log out, and Smart 911 is supposed to send you a text or email reminder. Another thing that's great about Smart 911 is if you are traveling and call 911, your information is going to populate into 911 dispatch. You do not have to be in Muhlenberg County."
"So many people don't understand that we handle all the calls. Until 1991, you would get the fire department, or police station. When 911 was built, we then had the access to dispatch all agencies."
"Television makes it appear to people that once we get the call, we're done. Many times that's just not the case."
At the most there are four dispatchers available at once. There are 10 radio channels to monitor along with nine fire departments, EMS, four police departments, school and school bus channels, and an off channel for police. On top of that there are 12 phone lines. Jenkins continued, "Most of the time, all those are not going to ring at the same time. If it's a bad wreck, we will get call after call." Explaining, "If there's a domestic, a wreck and a fire all at the same time, you're busy."
In addition to the above, each dispatch station has six computer screens, Jenkins says, "You have to be on it, and you have to be a multi-tasker. Your records have to go and they have to match the times. Information is entered into Computer Aided Dispatch, or CAD, and depending on the call (and the urgency) you might tell them to hang on and dispatch it out, if it's not urgent you may take all the information then dispatch units."
With regard to remaining on the phone with the caller, Jenkins said, "Depending on the call, we may stay on the call because here we do EMD, Emergency Medical Dispatch."
"In the State of Kentucky, we have great training for dispatchers. An applicant will have to go to the academy, to the Department of Criminal Justice Training in Richmond. Using the same practices police officers use. You have to pass all the background checks and testing the same as other first responders."
"EMD accreditation is up to individual centers and I've always felt when you call 911, that is the worst time in your life. You lose all of your senses. You can't think, you can't function. Simple questions like 'What's your address?' is often answered 'I don't know'.
"We had a nurse call once, and her baby was not breathing. She was asked, 'Do you know CPR,' she said 'I'm a nurse but I don't know how to do it right now.' Being an EMD agency, we inform the caller that we will walk them through administering CPR. If we weren't an EMD agency, we'd just have to sit there. When you are far into the county, that could be 30 minutes out. In the far edges of the county, that four or six minutes feels like an eternity. We are able to walk people through the steps of CPR."
"If we do walk someone through saving a person, the patient is added to the tree of life. It helps our dispatchers to be reminded although we do some tough things, look what else we do."
"Our county is blessed with such great first responders. We have so many volunteers in this county. What would you do out in the county if you didn't have those volunteer fire departments?" Jenkins continued, "I go all across the state, I'm on several boards and I hear stories of counties that don't have the inter-depatment connection our county does."
When asked the characteristics of a person that may make it as a dispatcher, quickly she answered, "You've got to have a heart. You have to care. While we are on the phone for 20 minutes waiting for additional help to arrive, and the callers loved one just took their own life, or if they are not breathing you are there with them. You are not with them in person, but you are there on the phone with them.
Jenkins closed with, "These dispatchers are more than employees to me; they are family. I am honored and privileged to work with these heroes everyday. They strive to serve their responders and citizens to the best of their ability each and every time they answer the phone or radio. They are all quite amazing in my eyes."